The best football movies are filled with action, excitement, human spirit and of course, the thrill of victory and agony of defeat.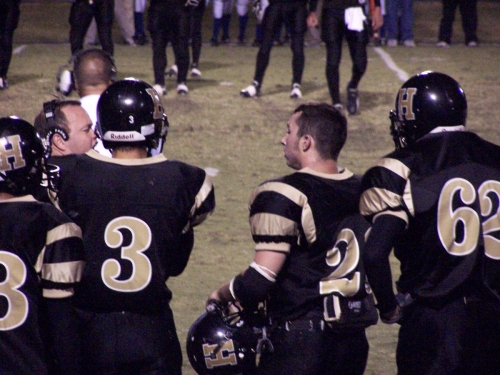 The Blind Side (2009)
Based of the true story of Michael Oher (Quinton Aaron), this touching story about a homeless boy struggling through school and trying desperately to keep his life on the right path despite the hardships of poverty and gang influence. He is taken under the wing of Leigh Anne (Sandra Bullock) and Sean Tuohy (Tim McGraw) and is encouraged to play high school football while he is tutored to bring up his grades. Oher went on to become a pro football player after being picked by the Baltimore Ravens in the 2009 NFL draft.
Remember the Titans (2000)
A great movie about football in Southern Virginia in the 70s, where schools are racially segregated. When a black and a white school are closed, students are forced to integrate at T.C. Williams High School. This football movie is based on actual events that took place in 1971, and shows the football team's struggles to come to terms with their new reality as they are lead to victory by their coach Herman Boone (Denzel Washington), to ultimately become a unifying symbol for the community.
Rudy (1993)
This movie is a showing of the strength and persistence of the human spirit in overcoming adversity and fighting for your dream no matter what. Daniel E. 'Rudy' Ruettiger (Sean Astin) is an unlikely football player who faces an uphill battle trying to convince everyone around him that he can make it and achieve his dream of playing at Notre Dame. An inspiring story about an underdog who just won't quit.
Friday Night Lights (2004)
The movie takes place in economically depressed Texas town of Odessa where passion for football derives people to extremes. The town is suffering through racial tensions as they try to find common ground with their local high school football team The Permian Panthers. When the team's star quarterback Mike Winchell (Lucas Black) is badly injured and taken out of action for the season, Coach Gary Gaines (Billy Bob Thornton), inspires his team and the townspeople to come together for a huge comeback.
We Are Marshall (2006)
Flying back from a football game, the entire football team is killed in a plane crash, leaving the small town of Huntington, West Virginia, completely devastated. This football movie is based on a true story that saw Marshal University courageously rebuild their team from the ground up, lead by their new coach Jack Lengyel (Matthew McConaughey) in an incredible show of perseverance. It demonstrates what's possible when people come together for a common cause.
Invincible (2006)
In 1976 the Philadelphia Eagles were returning from one of their worst seasons ever. In an attempt to drive some enthusiasm back into the city's fans, new coach Dick Vermeil (Greg Kinnear) decides to hold open trials for anyone in the public to take their shot at becoming at Eagle. This is based on the true story of wide receiver Vince Papale (Mark Wahlberg) and his journey to becoming one of the most unlikely NFL players in the history of the sport. This is one of the most inspiring and satisfying football movies about an underdog that overcomes adversity to show his greatness.
The Longest Yard (1974)
When disgraced ex-pro football star Paul Crewe (Burt Reynolds) lands himself in the slammer for wrecking his girlfriend's car and assaulting two police officers, he finds himself between a football and a hard place when the warden asks on him to lead a team of inmates in a game against the prison guards. When the warden pressures him to throw the game in return for an early release, he must contemplate his internal values and morals.
Any Given Sunday (1999)
When Cap Rooney (Dennis Quaid) the team's star quarterback is injured and out for the season, young benchwarmer Willie Beaman (Jamie Foxx) is called upon to fill in. He seizes the opportunity and shows what he can do with a convincing display of athletic prowess, leading the Miami Dolphins to new heights. The football team is lead by aging coach Tony D'Amato (Al Pacino), who delivers one of the most inspiring locker room speeches in the history of football movies.
The Replacements (2000)
When the professional football team the Washington Sentinels goes on strike, the team's owner is forced to call on retired coach Jimmy McGinty (Gene Hackman) to scramble together a replacement team made up of a group of misfits, with Ohio State player Shane Falco (Keanu Reeves) as the scab quarterback. Falco lives through some hilarious moments as he attempts to get the sorry group into shape, and manages to strike up a romance with the head cheerleader. This is a great choice if you're looking for a lighter-hearted but entertaining football movie.
Varsity Blues (1999)
In small-town Texas, high school football is everything to the obsessed locals who live to watch their boys play high school football on Friday nights. Coach Bud Kilmer (Jon Voight) must lead his team through adversity after their star quarterback Lance Harbor (Paul Walker) is injured, and must be replaced with John Moxon (James Van Der Beek), a second-string quarterback. This football movie demonstrates the character of individual team members as they are tested and forced to respond to the extraordinary pressures placed on them.